I just can't leave you guys alone, can I?  I mean, I go away for a weekend holiday and BREXIT happens!  I mean, really!!
Anyway, the squirrel is now back and as a public service to those who are still stunned and confused over what happened, here is "Brexit for Dummies".
#1.  The British held a referendum where they could vote to Remain or to Leave the EU.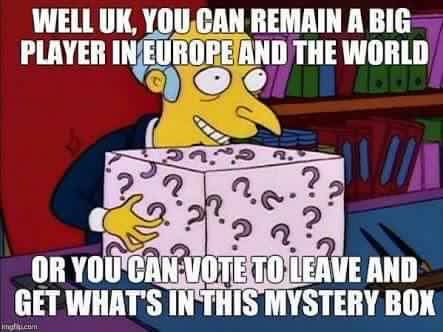 #2. Guess what the Brits chose!
#3 The result was a shock to many around the world and gave many politicians, leaders, captains of industry, financiers and ordinary citizens a BIG, BIG headache.
#4. It would seem to me that Britain would be poorer for leaving the EU.
#5.  What followed has been precipitous drops in the value of the British currency and stocks, downgrading of the country's credit rating and England's soccer team being knocked out of the Euro 2016 by lowly Iceland.  It has been a bad week all around.
#6.  Finally, as the early impact of the decision is being felt and some Vote Leave politicians backtracking on what the promised could be achieved by leaving the EU, more than 3.5 million Brits have signed a petition asking for a second referendum in what can only be described  as BREGRET.